Cogito recumbent tandem
See here the first fully suspended recumbent tandem with 2 comfortable seats, the "Cogito "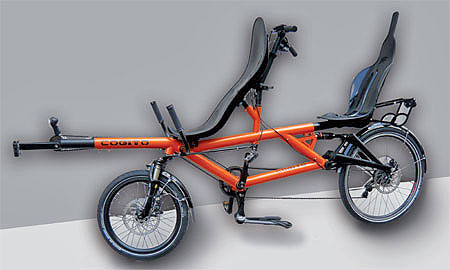 Development objective in this tandem was to allow both drivers to look forward, give both drivers a comfortable seat, create a fully suspended tandem - all the above realised in a short, sturdy, easy to drive bike.

Furthermore, if not needed for travelling with 2 persons you can convert the Cogito into a cargo bike: just loosen the 2 quick releases and take off the front seat. You can order a rack from us instead or with the front seat that fits exactly in the place of the front seat. The size of the cargo rack can be made to your wishes.
To minimize the problems with transport we created a version, which can be taken apart in 2 halves within 1 minute.
The weight is approx. 27 kg depending on the version and accesories.